Let all that I am praise the Lord. I will praise the Lord as long as I live. I will sing praises to my God with my dying breath. Psalm 146:1-2 NLT
I have been singing since I could talk. In my later years, the Lord impressed (quite heavily) on me that I was set apart to sing His praises. He is my Lord and King. As long as I have breath, I will praise Him!
Our ministry is to encourage the saints and add souls to the Kingdom of God. I would be honored to speak and/or sing at your next function or present a Bible study with or without song.
I am available to give Christ-centered programs for nursing homes and will even consider coming to your home or hospital room to present a "personal concert" to someone who is homebound.
It's our joy to bring a word of encouragement to the discouraged, hope to the hopeless and healing to the broken hearted.
Please check out our "Morning Manna" page! See the new format for the Morning Manna - much more concise and focused! As you read, may you be blessed and go through your day rejoicing as the joy of the Lord gives you strength!
Also, watch for more announcements of the new book, "Morning Manna," which you will be able to keep at your bedside or at your breakfast table!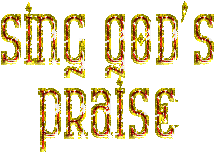 Flower Mound, TX 75028
Phone: 469-549-4457
Fax: 469-549-4467


Would you like a CD containing the songs you hear on our site? You can have one today by calling 469-549-4457 and ordering a copy. For a limited time only, CD's and cassettes of "America - Time to Repent - Time to Be Healed," can be ordered for just $10.00 and that will include shipping costs. Thank you!

By joining our mailing list, you can receive our daily "Morning Manna" by e-mail. To join, enter your email address below and then click the Go button:

Don't forget your spiritual breakfast on our "Morning Manna" page. You can also receive it daily in your e-mail by entering your info in the sign-up box below.

NOTE: If you have signed up to receive the "Morning Manna" by e-mail and have not received a response, please let me know by e-mailing me at
beabecker@verizon.net
. We will be sure to get you on the list promptly. Thanks for your patience.
Prefer to use the phone?
If you would like to reach us by phone, we accept calls at 469-549-4457 between the hours of 8am and 9pm central time. If you get our voice mail, please leave a message and we will return your call as soon as possible.